'Intense Cloaking Technology:' Mirrored House Almost Invisible on Busy Road
A house in London is causing quite a stir on Reddit, as its mirrored exterior makes the home appear almost invisible.
A snap of the property was shared to social media by Smthgdbrn, who asked: "Mirrored house in Richmond?"
Photos of the home wouldn't look out of place in a video game, with the reflective exterior topped by three pitched roofs, etched in black. The façade simply reflects the street scene in front of it, giving it an uncanny feel.
Smthgdbrn wrote in r/London: "I visited Kew Gardens yesterday and walked past this incredible mirrored house. Does anyone know anything about it? Is it residential or commercial? I've tried googling it and can't find any info about it."
The home was revealed to be in the west of the capital, in Richmond, as Redditors discussed the unusual material.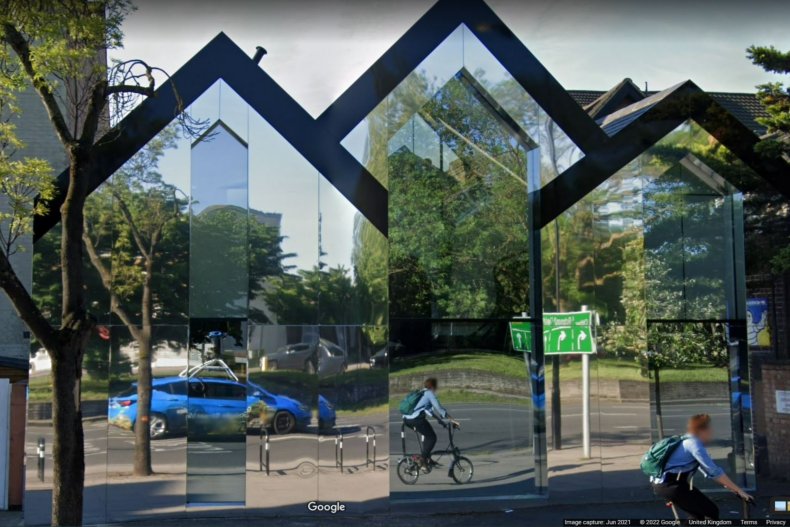 Carvica asked: "Does the sun ever give it that unbearable shine?"
LateFlorey wondered: "Can you see into the house at all or is the completely reflective up close too? The more I look at this, the more I like it."
Quick_Doubt_5484 thought: "Must be a right pain to keep clean."
Katiexkatie said: "Me trying to work out if I can take selfies in this or if the owners inside can see me doing it."
Alexjolliffe joked: "You cannot claim that this architecture doesn't reflect the surrounding area."
While Succy_for_5_buccy thought: "This is some intense cloaking technology."
As Brownsloth reckoned: "10/10 birds hate this house."
Numerous people made jokes, as Jhlaking quipped: "Seems like a good place to stop and reflect."
Gnikttam commented: "I could really see myself living there."
Naka360 admitted: "It perfectly reflects who I am."
Smthgdbrn added in: "After reading all these comments I've done some more sleuthing and thanks to google maps, I can see that the front is on St. John's road.
"It's set back from the residential street, so I guess that's how they got past the planning permission. Looks like their front garden is their only garden, which is why the house backs onto the main A-road street by the roundabout.
"I think the building looks pretty cool but having that busy street right next to your house must be awful! Sooo much traffic noise and people peering inside…"
The designer is believed to be Alex Shaw, who previously retweeted updates to his Twitter, back in 2014, from Atmos Studio, which he established in 2006.
The address of the project matches the house, as a tweet says: "Some pics of the 3dprinted model of our proposal for the Richmond House, shared last night with the neighbors…"
It's not the only mirrored house in existence, as a TikTok video from 2020, by @alexpreview, showed a reflective home in Switzerland. That house can be seen here.
The clip, seen more than 2.5 million times, simply asked: "A mirror mirage in the middle of the Swiss mountains. Who would you take here?"
The shiny home is located in Gstaad, and is known as Le Mirage, by artist Doug Aitken.
A 2019 article by New in Zurich explained the artwork was modeled on a Californian ranch home.
The article said: "Gstaad is actually the chalet's third location as it was previously located in the Palm Springs desert in 2017, then in 2018 it was situated inside an old bank in Detroit. However, this time the structure will stay in the Alps for two years."
Newsweek has reached out to Shaw, Smthgdbrn, and Alex for comment.