Canine Heat Stress Can be Avoided With Misting Systems
Ever wonder about our heroic K9 first responders and law enforcement personnel?  They work long hours, are excellent searchers, defenders, and loyal partners, and save lives.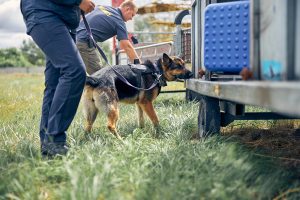 Adlerhorst International LLC is a foremost provider of security and police dog training classes and certifications for law enforcement and government agencies in the United States and foreign countries. Located in Riverside County, the 7.5-acre facility has become a world-renowned private Police Dog School and a resource for K9 supplies and service and home protection dog procurement.
Adlerhorst's list of courses and training classes is extensive, with offerings to thoroughly prepare service dogs in Handling, Fire Arms Detection, and Patrol Certification, to name a few of the programs, using theories and techniques honed since their inception in 1976. Adlerhorst staff is highly experienced, bringing years of field and training expertise to enhance the K9 education experience. Adlerhorst is also a premium breeder of AKC-registered puppies born of strong, healthy lineages.
Koolfog designed misting systems for Adlerhorst's K9 kennels that house the animals during their training as well as bleachers and a horse corral. Over 200 nozzles are distributed across the stainless steel misting lines, all utilized by high-pressure misting pumps.
According to the lead installer on the project, it was a very educational experience for the entire Koolfog team. He observed, "As the hours passed, the temperature increased, the animal's temperament began to turn from attentive and excited to lethargic. When the system was turned on during testing, the animals began to come to and no longer seemed to be struggling with the summer heat, but actually looking happy and content."
Canine heat stress is very real. When a dog's temperature rises above their "normal" (although different breeds vary, veterinarians commonly agree that a canine temperature over 103 degrees is dangerous) they become lethargic, their breathing becomes labored, and this can eventually lead to death.
Keeping our pets cool in excessively hot and humid weather is of the utmost importance. It is recommended that owners keep their furry friends in a shaded area, keep them hydrated, and prevent heat exhaustion by remembering that if you feel uncomfortably hot, your pet, most likely, is feeling the same.
Koolfog is serious about taking care of animals and humans and we pride ourselves in providing the best in breed misters that easily reduce temperatures in outdoor environments. It gives us further honor that Adlerhorst trusted our team to install misting systems for their best-in-breed K9s in training. We appreciate and are thankful for everyone's service. For more information on our misting systems and animal care, go to www.koolfog.com.

Latest posts by Michelle Roe
(see all)